How to promote a mobile app?
If you want to successfully promote a mobile app in 2020, we recommend you check out this article. A couple of fresh ideas are waiting for you.
Posted by Maria Last update April 16, 2021
Even if you have created an amazing app that fully meets your expectations and satisfies users' needs, it's still not time to relax. Now you need to let your target audience know about your app, download it, and like it.
In this article, we will explain what promotional strategies will be relevant in 2020 (Spoiler🤯: ads in newspapers are definitely not the best choice) and try to inspire you to develop your own way of promotion. It won't be difficult. Many businesses are successfully doing it and you can do it as well.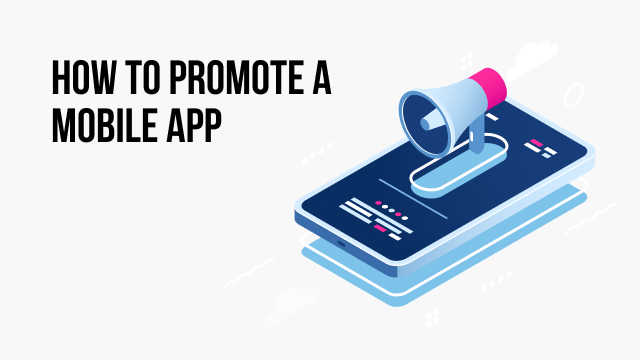 Are you ready to see your app's number of downloads skyrocketing📈? Then let's start right now.
No promotion, no success. But why?
To understand why you need to spend your time and (often) money on the promotion of your app, you need to realize the exact aims and tasks of your app, as well as its role in your company's success.
We have already shared our thoughts and vision on the importance of mobile applications for businesses in our articles( What is mobile app? & What is mobile app development?).
---
Just a quick reminder:
a mobile app represents itself as an additional link between you and your target audience and supports your business's growth.
A cool app can ensure a higher level of customer loyalty and, as a result, you will see your profits grow. Yes, yes, we understand that if you are launching an app, you know these things and we are not going to dive deeper into this topic now.
---
But can an app bring people all of the benefits it has to offer if nobody knows about it? Definitely not. And that is what we are going to discuss.
The main idea of the promotion of a mobile app (just as in any other product) is to let your target audience know that your app exists.
Your main task here is to make (okay, it may be a too strong word here), to encourage potential users to download your app. Without trying to use it, they won't know if your app deserves the right to win their hearts.
However, how can you do this? The question is still waiting for an answer. But we've already worked hard and gathered the most up-to-date information that will help you understand the main principles of mobile app promotion. The next section is dedicated namely to this issue.
12 methods of mobile app promotion in 2020
There are millions of apps on the market. But how do you ensure that people will use yours? Here is a list of the easiest and most efficient ideas that will help you rock the market.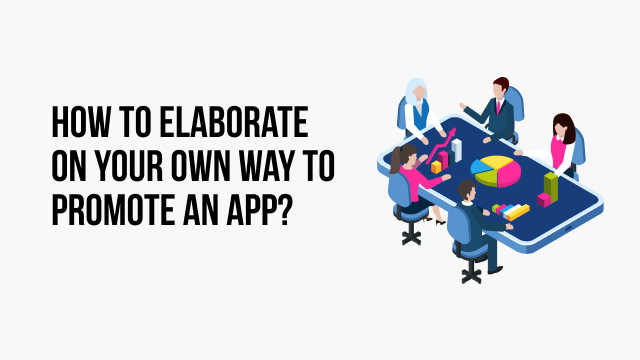 1.Create a separate website for your app💻.
Yes, it may be a cool idea to launch a website before the release of your app and to update it within the life cycle of your application. This method works well but… Guys, you will need to promote this website first. That's the main reason why most businesses don't turn to it. But if your app is something grandiose, why not do it?
2.Create a page on your company's website📃.
This variant is a little bit easier. Moreover, there is not a pressing need to separately promote this page as in the option mentioned above. However, it will let the visitors of your site (=potential users) learn about your app.
3.Use your social media pages👁‍🗨.
If you have created an account on Instagram or Facebook and you use it for communication with your audience, do not hesitate to use it for app promotion. This tool is absolutely easy and fully free of charge. Even giants such as Starbucks do not forget to remind their customers to download their apps, and they can simply use their Instagram accounts for it.
4.Make posts in social media groups and communities👨‍👩‍👧‍👦.
This option requires some investment. However, working with such groups, you have an amazing option to get access to people who are potentially interested in your app. But please, choose the groups carefully; analyze their target audience. Otherwise, your promotion won't bring any results.
5.Collaborate with Instagram and Youtube bloggers💃🕺.
It's probably one of the most powerful tools today (though the target audience is rather limited). In general, the idea behind this method is very similar to posting in groups. But we believe that this type of promotion is a more vivid one. For example, there are some globally known bloggers like PewDiePie or JackSepticEye. You should be ready to pay a significant amount for their advertising. You can start with bloggers with a smaller (more targeted) audience.
6.Make publications on news and thematic portals👨‍🍳.
Some portals offer services such as the publication of sponsored posts. You can submit your own text or provide an author with some information about your app to have a unique text written for you.
Lifehack: Sometimes if the portal gets really interested in your project and believes that the article may attract a lot of readers, the text will be published for free. So, just try. Just a couple of ideas for you: Crunchbase, MobileAppDaily, GetApp.
7.Send email newsletters📧.
If you use email to inform your clients of your important corporate updates, a new app is a good reason to send a new email to them.
8.Motivate installations🤗.
This way of promotion is a really cool one for business. For example, you can offer a pleasant discount on your products or services to all the clients who install your app.
9.Set search contextual advertising📝.
This type of advertising presupposes displaying your ad in searches via systems such as Google. If the interests of your audience are specified correctly, only potentially interested users will see your ad displayed.
10.Launch ads on social networks (Instagram, Facebook)💡.
Today Facebook has a special offer for businesses. Using this way of promoting your app, you can be sure that your banners (or posts) will be shown to users in news feeds of Facebook, Facebook Messenger, and Instagram.
11.Launch ads on app stores📂.
Yes, you have the ability to advertise your application directly on the app marketplaces: App Store and Google Play. What's especially good about these ads is that they won't be shown to those who have already installed your application.
12.Optimize your app for app stores🔁.
The last (but not least) point that we'd like to mention on this list is App Store Optimization (ASO). It's probably the most serious and important step everyone who is trying to promote an application should remember. It's a complex of actions that are aimed at enhancing app positioning on Google Play and the App Store.
But stop! This point is too important to just be the 12th point on our list. It deserves to be the main issue for our next article. Keep for updates!
How to find your own way to promote an app
Of course, there is a practically unlimited number of options for promotion. But how do you figure out which way would work best for you🤔?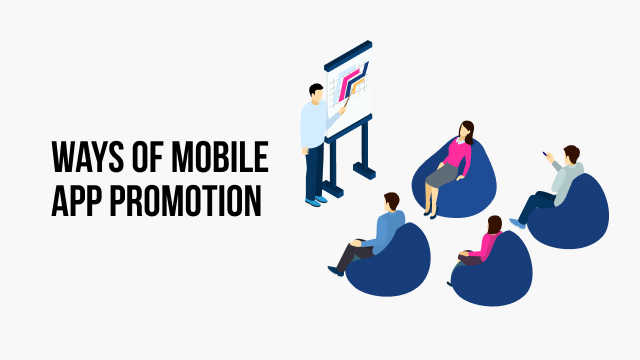 Here are some tips that may help you find your way:
Tip 1. Clearly define your audience👥.
There isn't a single promotional strategy that will work if you do not know what segment of the market you want to reach.
Do you remember that to investigate a crime you need to think like a thief? The same principle can be applied here.
If you want users to like your app, think as they do.
Promote your app via channels that may be seen by your audience.
If you already have your business and your clients, it may be easier for you to define your target audience. But still, you should be careful with this step. Maybe not all your clients are potential users of an app and you need to focus your attention on some particular group.
For example, if you want to promote an app for young mommies and want to tell about it in a Facebook group's post, it won't be a good idea to publish this post in a group for hard rock lovers. But hey, who knows…🤣
Tip 2. Research the market🔎.
You need to analyze market trends. The best way to do this is to study what your competitors are doing.
If you offer a unique project and have no rivals (though that is hardly possible these days), then just look at companies that are doing something similar.
Tip 3. Stay honest; never lie to your users🙅‍♀️.
Do not promise them something that you are not going to give them. If you are not going to pay them 100$ for downloads, don't say that you will.
Tip 4. Listen to your heart (did you sing these words too?)🎤.
Yes, it may sound ridiculous, but it's something that you should do if you are doing business. Just be brave. It's okay to make mistakes sometimes. Even if your idea for promotion doesn't work, you will always have another chance.
Tip 5. Do not give up on simple promotion💸.
Even if you see that a lot of users are actively installing, it doesn't mean that you can stop your efforts. As you understand, a user can install your app and delete it five minutes later. You need to make them stay with you. But that's more about mobile app marketing (app promotion is just one part of it).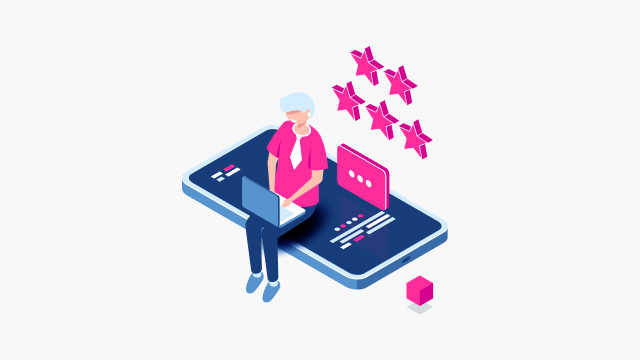 Summary
Mobile app promotion is an obligatory part of an app's launch if you do not want to be the only user of your app. Some ways of promotion require investments, others are free. However, in different situations, they all work. It means that you are free to choose the ways that look appealing to you and just try them out.
If you find that the strategy you've chosen really doesn't bring you the expected results, you can choose another approach.
But staying creative, don't forget about basic things such as APO.
We have just shared our vision. Maybe soon you will develop your own amazing approach to app promotion. That would be cool. We would be happy to know that our article has inspired you🥰.