How to launch your own crypto token?
What you should decide on before your token will see the world
Posted by Omertex Team Last update July 2, 2021
As cryptocurrencies are gradually moving to mass adoption, more and more businesses are entering the game launching their own coins. Though it is quite difficult to say who is standing behind the most popular cryptocurrency – Bitcoin (the personality of the mysterious Satoshi Nakamoto still hasn't been revealed), some companies prefer to launch their blockchain projects and tokens openly.
While Telegram with its TON project hasn't moved far in its development due to legal issues, Facebook-backed Diem (previously known as Libra) is going to launch its digital coin pilot already this year.
Maybe launching a crypto token can become a good idea for you and your business? Read this article to make the right decision.
Cryptocurrency and crypto token: is there any difference?
Cryptocurrency is a type of digital assets that has some particular value and that is designed as a means of exchange. Actually, crypto coins are virtual currencies running on dedicated blockchains. Good examples are Bitcoin or Ethereum.
In this article, in the context of businesses, we are talking more about crypto tokens. They are tradable and fungible assets that operate on top of the blockchain which was chosen for creating and executing Dapps and smart contracts. 0x (ZRX), Chainlink (LINK), Uniswap (UNI) are typical examples. Quite often tokens are used not only in payment transactions but also in fundraising procedures (such as ICOs, for example).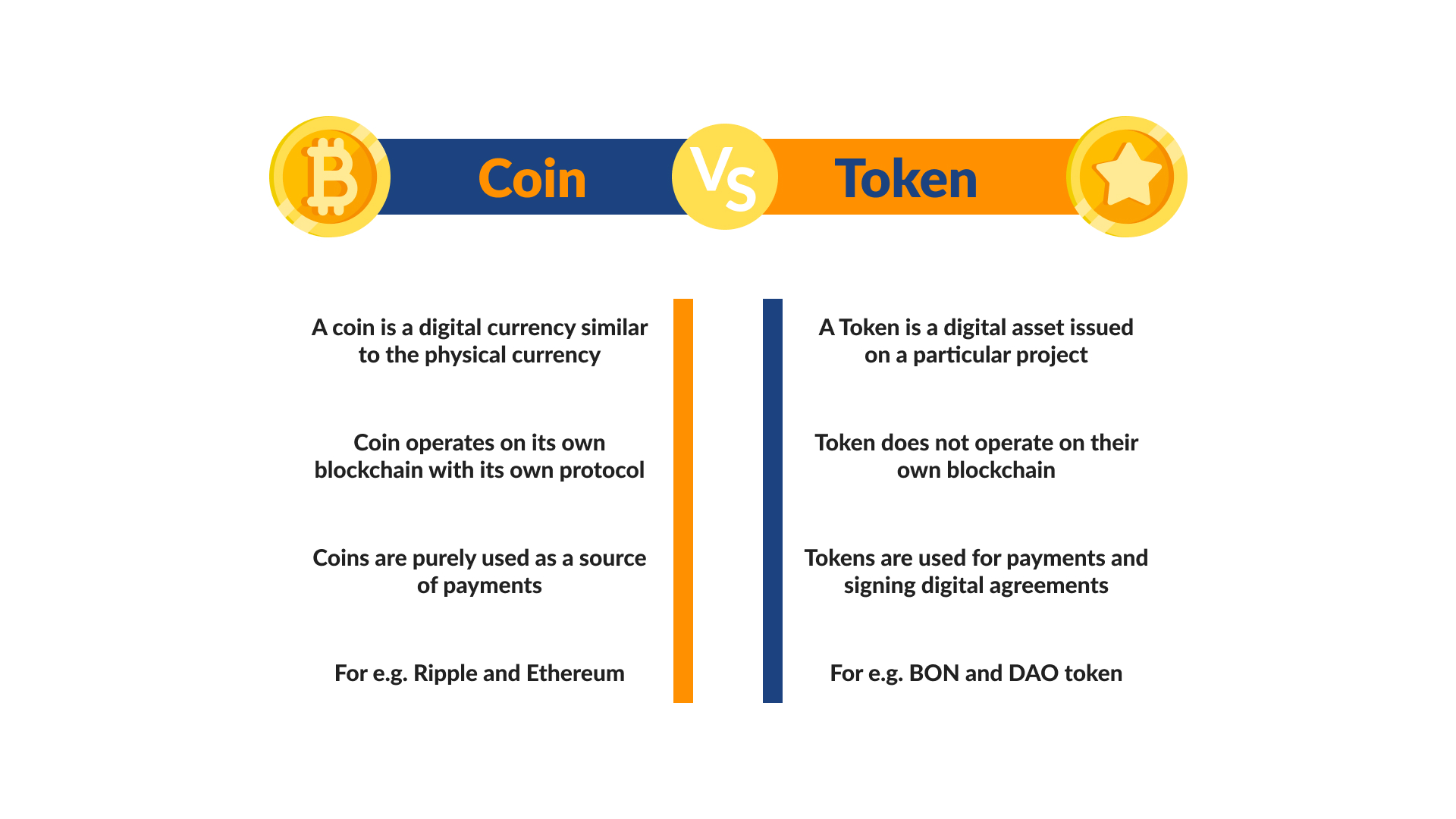 So, the main differences are:
The use of tokens is limited to a specific project, community or sphere. The use of crypto coins is wider, cryptocurrencies can be used everywhere.
Cryptocurrencies run on their own blockchains while tokens are launched on the existing ones.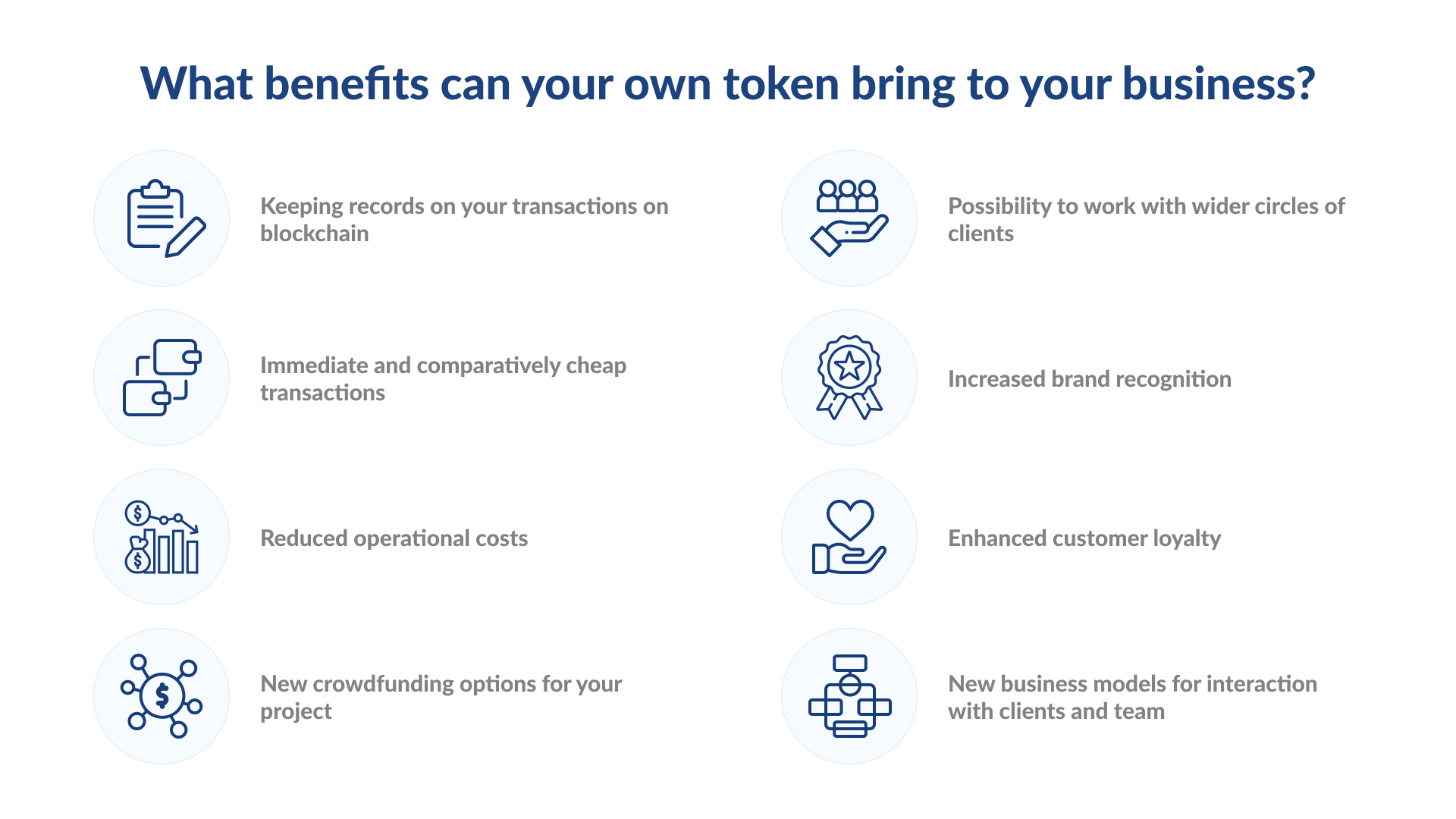 How to understand whether your business really needs its own token?
Let's be honest: not every company really needs to have its token. We've prepared a small questionnaire for you to help you to decide on the feasibility of this initiative.
If you have given positive answers to some of these questions, it's really worth thinking about launching the token to satisfy the needs of your business and to discover new horizons. Please, bear in mind that at Omertex, we are always ready to share our expertise and offer our help in token development.
So, let's suppose that you have already decided to launch your own token. What's next?
First of all, you need to understand what blockchain platform you will choose.
Blockchain platforms to consider: Where to run your token?
One of the core questions that you have to answer is what blockchain platform to choose for launching your token. In this section, we are going to provide the most important differences between the popular platforms which will help you to make the right choice.
Based on our practice we can say that namely Ethereum, Binance Smart Chain, and TRON are the most preferred choice for launching tokens today. The choice of the blockchain for token development depends greatly on your plans for further token use.


TRON
BSC
Ethereum
Native Coin
TRX
BNB
Ether (ETH)
Consensus Mechanism
Proof-of-
Stake
Proof-of-
Stake
Proof-of-
Work
Transactions Per Second (TPS)
2000
57.8
15-30
Transaction
Fee
Zero
$0.01 — $0.05
(depends on
BNB cost)
around $65
(depends on
ETH cost)
Market Cap
(as of May 18,
2021)
$8.3
Billion
$79.8
Billion
$397.2
Billion
Mainnet
Launch Date
25 June,
2018
September 1,
2020
30 July,
2015
Total number
of DApps
(as of May 18,
2021 according to DappRadar)
1246
534
2277
Unique Active Wallets
(according to Dappradar)
10,6K
(as of December 12, 2020)
218,1K
(as of April 30,
2021)
46,1K
(as of April 30,
2021)
Sources: Dappradar.com, Coinmarketcap.com
As you can see, from this list Ethereum is the oldest blockchain that can't boast the fastest and the cheapest transactions. However, now its developers are actively working on the launch of Ethereum 2.0 that will be already powered by the more energy-efficient Proof-of-Stake consensus mechanism and will be able to conduct more transactions at a lower cost.
But what can be done if for any reason you need to have your token deployed on several networks simultaneously? For example, if you are not satisfied with the speed offered by the current version of Ethereum and are looking for a faster platform but you do not want to lose the benefits offered by it (such as a large community, for example), what can you do? For such cases, our team can build a so-called bridge that will help you to send your token from one platform to another and enjoying the benefits offered by both of them.
Ethereum

Ethereum is a decentralized platform built to run smart contracts that are necessary for developing Dapps on the network. The platform supports a number of token standards, including:
ERC-20 (this standard is the most widely spread today, it allows using tokens by other applications)
ERC-223 and ETC-777 (they are viewed as improved versions of the ERC-20 standard)
ERC-721 (it is a standard for non-fungible tokens on Ethereum)
ERC-1400 (security token standard)
Binance Smart Chain

Binance Smart Chain is also gaining popularity among developers who build Dapps. Its token standard is known as BEP-20 which is compatible with ERC-20. It is a quite flexible standard that allows building different types of tokens.
Tron

Tron doesn't seriously differ from the two previously mentioned options. But it is widely used in large projects for large-scale token development. TRC-10 and TRC-20 are the standards supported by this platform.
If you ask us which platform is the best one, we won't be able to provide you with an answer immediately. We need to analyze your case in detail to understand which of them fully meets your needs.
How to create a token?
As soon as you define the platform, the token standard, and the tokenomics explaining how your token will work within the broader ecosystem, it's time to act! The further steps of the token development plan include:
Realization of a smart contract for your token. In the majority of cases, standard smart contract realization is enough. It can be downloaded from open sources. For example, if you are building an ERC-20 token on the Ethereum blockchain, it can be downloaded here.
Setting of the key parameters of your token (token name, symbol code, token supply, token precision)
Building of your smart contract and its deployment in the mainnet using the SDK of your blockchain and other available development tools
We also recommend verifying your smart contract as well as conducting its audit as it will make it look more reliable for investors and potential clients.
Of course, in reality, it is a little bit more complicated than it sounds but if you have experienced professionals whom you can rely on, there won't be any problems.
For experts, the creation of a token is not a challenging task. And sometimes it will take just a couple of minutes. However, you should bear in mind that the token launch requires holding funds on the blockchain on which you are going to run your token.

If you are interested in launching your own token, we will be happy to hear from you.