Blockchain and education: does it make any sense to combine them?
Is blockchain able to revolutionize the process of learning?
Posted by Omertex Team Last update April 19, 2021
Educational technology (Edtech) represents itself a combination of IT solutions, computer hardware capacities and educational theoretical and practical methods aimed at enhancing learning processes, making them easier, more engaging and result-oriented.
Today classrooms are not the same as they used to be 30, 20 and even 10 years ago. We are not surprised anymore when we see traditional computers in classrooms or hear about interactive online courses. All this has become a norm.
Educational technologies are moving further these days. AI and ML tools, robots, IoT devices and even blockchain-powered solutions have entered the game. And in this article, we are going to analyze what new opportunities the latter category can offer to teachers and students.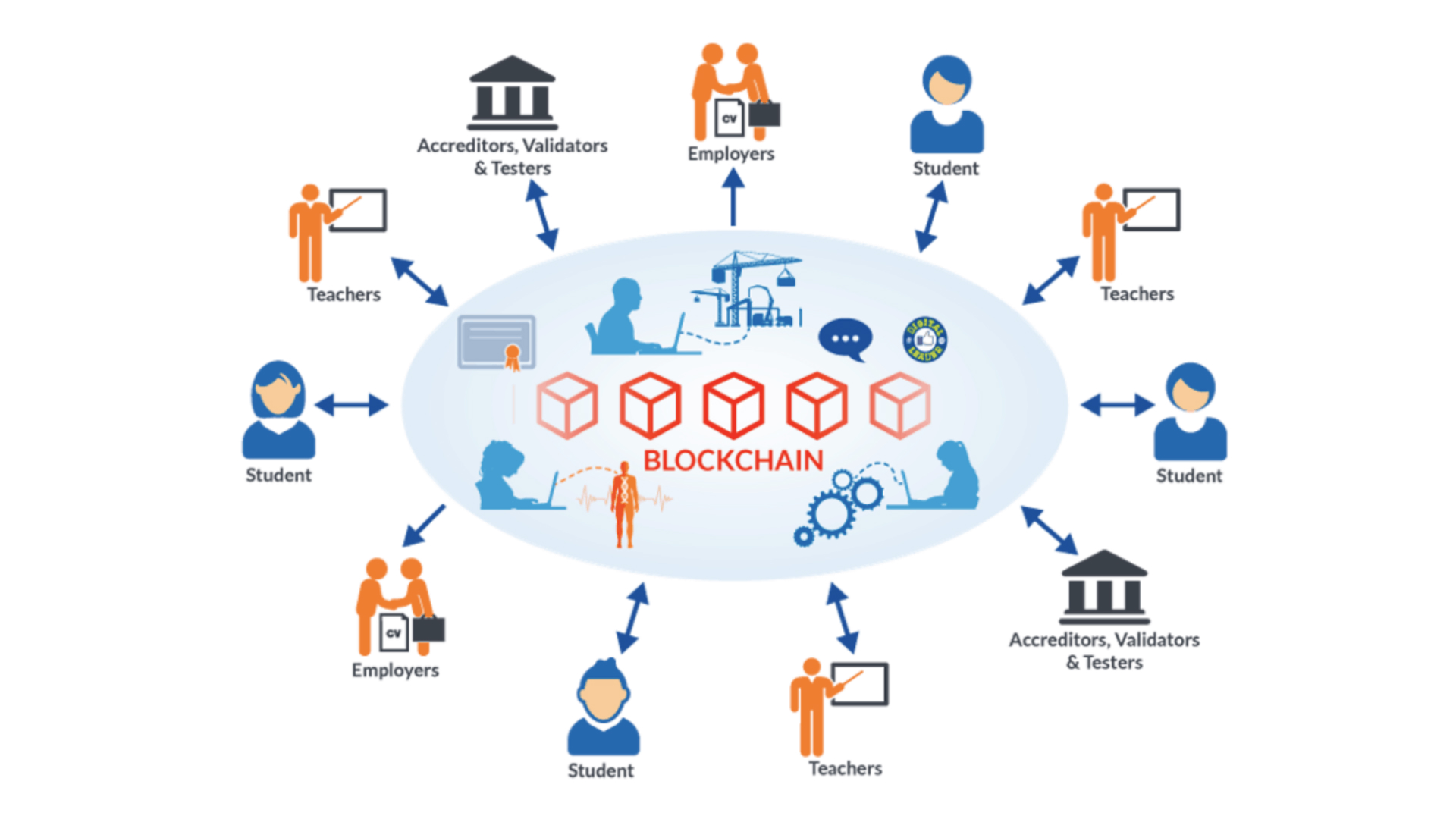 Blockchain: benefits for education
The general capacities and advantages of blockchain technologies for businesses we've already covered in our blog (just follow the link to read this article). That's why now let's focus on the segment of education only.
Increased security of educational records
Every year millions of students in different corners of the world enter school and universities, move, change their educational institutions, graduate. Huge volumes of profiles with information move around. However, due to the peculiarities of traditional systems, the personal data of students can't be protected in a proper way. Academic records, residency files and other types of info can be lost and hacked quite easily.
However, with a decentralized blockchain system, necessary protection and accuracy can be ensured which will guarantee full privacy for students. Moreover, with blockchain, the process of students' academic credentials verification can be significantly streamlined thanks to the elimination of manual processing.
Improved online learning and certification
The digitalization that we can observe everywhere around has reached the educational sphere as well. More and more universities and colleges offer platforms with online courses that attract students with various demands and lifestyles. The demand for digital certifications and degrees is growing as well. And once again blockchain here is of great use. The accuracy of data, its protection and automated verification – all this is highly required when we are talking about online certification.
More accurate analysis and tracking of student progress and test scores
With the help of blockchain-powered solutions, schools will have the possibility to aggregate info on the educational progress of their students. Good analysis of such results can help schools to adjust their programs and update their learning methods in accordance with the received results.
Efficient administrative operations
Actually, this benefit is not exclusive to the educational sphere. Collaborative platforms are widely used across many industries and blockchain technology can greatly enhance traditional systems. It can significantly improve the security of these platforms and make them accessible across multiple groups.

Blockchain in education: real projects
But while some institutions are only considering the capacities of blockchain, some others are already enjoying its benefits. Below you can find a couple of real cases. And who knows, maybe they will inspire you to launch your own blockchain solution aimed at revolutionizing the learning process.
Sony Global Education

Sony Global Education joined forces with IBM to create a blockchain platform intended for maintaining records on students and their academic achievements. Different schools, colleges and universities can add info to the platform where the data (including those regarding scores, personal info and payments) will be safely kept and other institutions where students will continue their educational process can get access to these records.

ODEM

Switzerland-based ODEM offers a decentralized educational services and products marketplace. The platform is powered by blockchain and acts as a bridge between students, educators and resources and courses that are interesting to them.
When a student or a professor takes a course, this fact is recorded on the ODEM ledger and further, it will influence the reputation of the person on the platform. Users can pay for courses using the ODEM tokens.

APPII

APPII offers a tool for verifying credentials. The solution is powered by the capacities of ML technologies, smart contracts and blockchain. Users of APPII create their profiles on the platform and add their education transcripts and history. The platform then verifies the academic CVs and experience of users and keeps the personal data on its blockchain.
This solution can be used by numerous universities that are interested in finding a reliable and simple way to verify the credentials of prospective professors and students as well as to create and safely keep records for their alumni.

Blockchain has started entering the sphere of education not only as a supportive technology but also as a new field of knowledge. Universities all over the globe as well as other institutions today offer educational courses for those who are interested in blockchain and other related aspects such as cryptocurrencies and decentralized finance. And it is, obviously, just the beginning.
We are proud that at Omertex we already have a strong team of blockchain developers who can help you to transform your boldest ideas into real products. Want to discuss your future project for education or any other industry? Do not hesitate to contact our team.